Painting a Mural
Step by step process of the creation of a mural
By John Potter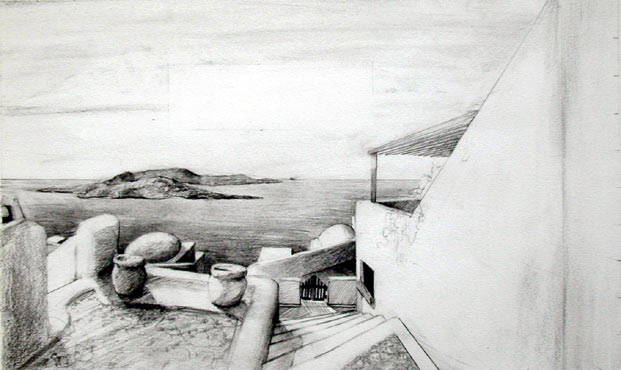 Finished sketch


Ensuring proper measurements for the space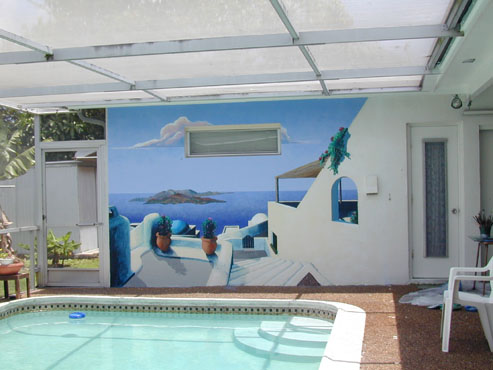 Final product
See a gallery of the creation of this mural Step By Step
When I bought my home there was a huge blank wall right at the end of my swimming pool on my patio. It made you feel kind of like you were swimming into a wall, or you were in some kind of compound. This was the perfect place for a mural.

I gave it some thought and decided to go with a Mediterranean theme. Most folks in this part of the country do the tiki thing, Spanish colonial or the horribly overdone Tuscany look, but I wanted to do something different. Another advantage is that it would allow me to have a view with some elevation...something I miss from other parts of the country. I had (and still haven't) ever been to the Mediterranean, so I was going to have to do some research.
I had seen a movie called Big Blue and loved the setting at the beginning of the movie, but I didn't know where it was. A little bit of Googleing took care of that. It turned out to be Santorini in Greece and it has a rich history that I wont go into here, but I did come back to it for another smaller mural later.
I wanted a composition specifically designed for the space. I needed something that deemphasized the window and made the door to the right not appear an awkward afterthought. There is a lot of great photography of Santorini, so I'm sure I could have copied someone's photo exactly and had a nice result, but it wouldn't have fullfilled all of my requirements and it wouldn't be original.
The place I created in the painting doesn't exist. Some elements of it exist, like the islands in the distance, but the composition is fabricated. I tried to make the painting blend into the real world of the existing door on the right, while trying to ignore that there was a window right in the middle of the mural.
I used my usual method of developing a finished drawing first, then drawing on the surface, then fixing the drawing and then painting. The mural is done completely in acrylic paint. I did color studies ahead of time and had a complete palette laid out. I used artist's acrylics for most of the painting, but the areas of the sky and ocean were so large I used home paint in quart cans. I printed out my color swatches from my palette and took them to the paint store with me. They scanned them and mixed the paint based on that. I think I changed one color after the fact. The planning really paid off. I used a dark to light underpainting method like the old masters used with a base color of blue. In some areas of the finished painting the underpainting still shows as the final product.
The project took about three weeks with one week being research and sketching. My original goal (in my mind) was to shoot for a lifespan of twenty to twenty five years. Acrylic house paints are only supposed to last fifteen years, but I suspect that is planned obsolescence. After two years it was still holding up well and showed no signs of fading despite harsh conditions. Nonetheless I decided to coat it with a high quality UV protective clear acrylic coating to insure it lasted a good long time. Acrylic paint has only been popular since the 1950s, so long term durability has still only been field tested for a little over 50 years, but an art restoration guy assured me that this coating was my best bet for long term survival. It's been there for five years as I write this and it still looks great, so I have high hopes.
I am pleased with the results and get many complements on it. The Mediterranean theme ended up taking over my whole patio and now I have another mural in the style of the Minoans who originally inhabited Santorini as well as tiles in the pool with the same look and lots of blue like they use on the island.