Rack Card Illustration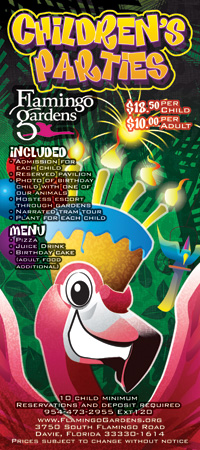 Finished rack card
Rack card without text
I just finished a little project for Flamingo Gardens here in Davie, Florida that I would like to share. It wasn't a big or complicated project, but sometimes potential is where you make it and I did my best to make this rack card something special.
The folks at Flamingo Gardens approached me with a request to update their children's parties rack card. The one they had was very straight forward. It had some stock photography laid out nicely and a party hat had been Photoshopped onto a parrot and flamingo's heads. It was nicely done, but reserved and it seemed to appeal to parents wanting a quiet and orderly event rather than kids wanting to have fun.
I came up with a fairly nutty illustration concept and began moving toward something that looked pretty finished to show them right away. Although my early sketches showed potential to me, I think they would have looked kind of crazy to anyone else. I didn't think a written description of the illustration could possibly sell them on the idea either. I was convinced that if they saw it they would like it. Although I had risked wasting some time, they did like the concept when they saw it and everything went smoothly. Now Flamingo Gardens has a nice new rack card to advertise their birthday party package and I have a nice illustration I am happy to add to my portfolio.