Package Design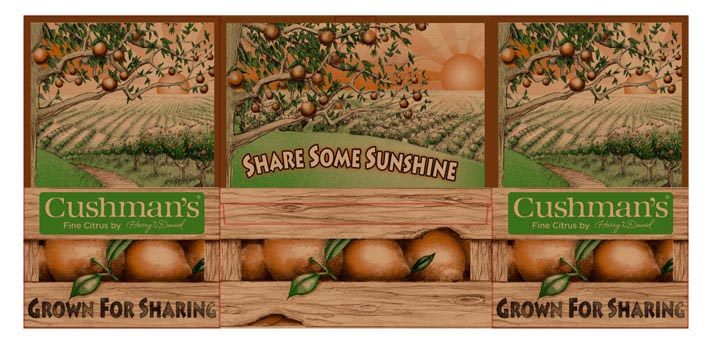 Package Design - I was recently subcontracted by City Streetz, a full service graphics shop here in Fort Lauderdale, to create a box design for delicious Honeybell Oranges for a company called Cushman's Fruit Company. City Streetz frequently calls upon me for illustration projects and maps.
The box is a rather heavy duty and complex cardboard box. I did the initial drawings by hand with graphite, but adding spot color had to be done in Photoshop using channels. The drawings of the orchard were done in layers by using translucent velum. This allowed us to change the position of the tree in the foreground in relation to the orchard in the background, for instance, without redoing the whole illustration. I made two dimensional mockups using Illustrator and Gil at City Streetz and I both worked on the final for the printer's template in Indesign. What you see here is the final two dimensional mockup of the front and sides (if you click on it you can see the top as well). The color of the cardboard has been simulated to give a more realistic idea of the look of the final product. The folds and cuts of the dieline can be seen in pink.
To learn more about City Streetz visit CityStreetz.net and for more information about Cushman's Fruit Company visit honeybell.com.
See the box on
QVC's website...