Illustrated Town Map - Illustrated Map of a Town for Visitors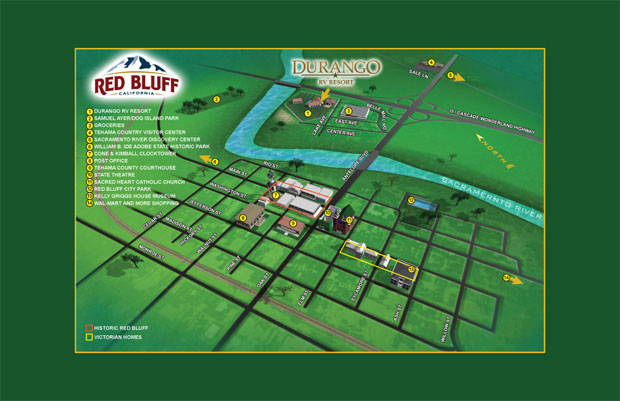 I am very pleased with this new illustrated map of Red Bluff, California. The Durango RV Resort was looking for a map of the towns highlights and asked if I could make a fun, easy to follow guide of the town. I think this map does the job nicely and the client is pleased as well.
If you have an interest in hiring me to create a map of a whole town, city or large area this serves as a good example. It shows some of the changes in scale and so forth that have to be made to make an entertaining illustration while still having a navigable map. Some of the buildings have been spun around so that you can see the facades rather than the backs, since no one recognizes the back of even a famous building.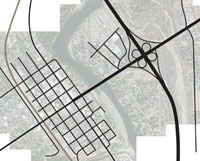 The first step I took was to establish which roads were necessary in the map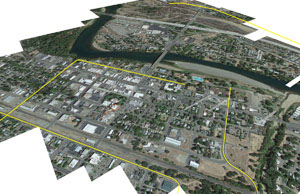 The second step I took was to establish an angle for the map that would include all of the necessary roads and points of interest. Notice the outer limit roads are marked in yellow.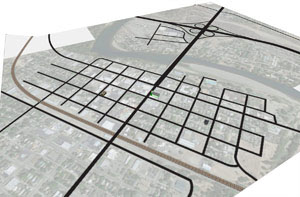 The third step I took was to begin rendering buildings in their proper spots at true scale.
There are obviously more than a few steps I am not showing here, but the client go to see all of the steps as I worked and you will too if you contract me to make your map.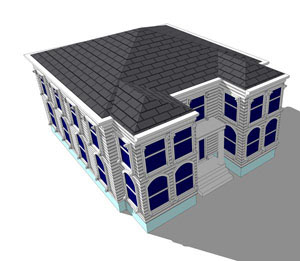 A close up of the Kelly Griggs House Museum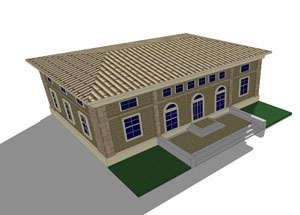 A close up of the Red Bluff Post Office