Illustrated Map for the Palm Beach International Boat Show - Palm Beach Boat Show Map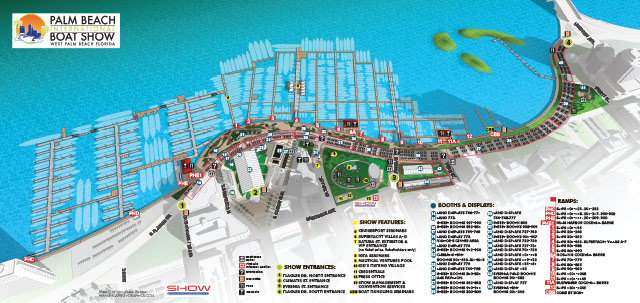 A slightly new look and lots of dock revisions for Palm Beach this year. Palm Beach Boat Show Map.
Since 2011 I have updated the Palm Beach Boat Show map whether that amounted to some minor revisions or a full redesign. The map was originally a vector based illustration created using Adobe Illustrator. The version in use now was created using Sketchup to create and render a 3D model. In the final step Adobe Photoshop is used for some subtle nuances and Adobe Illustrator is used for labeling, keying, logos and all that page layout stuff. The 3D model approach allows for versatility that the isometric drawings I used to do didn't. Now the boat show can be rendered from any angle if necessary.