Fort Lauderdale International Boat Show map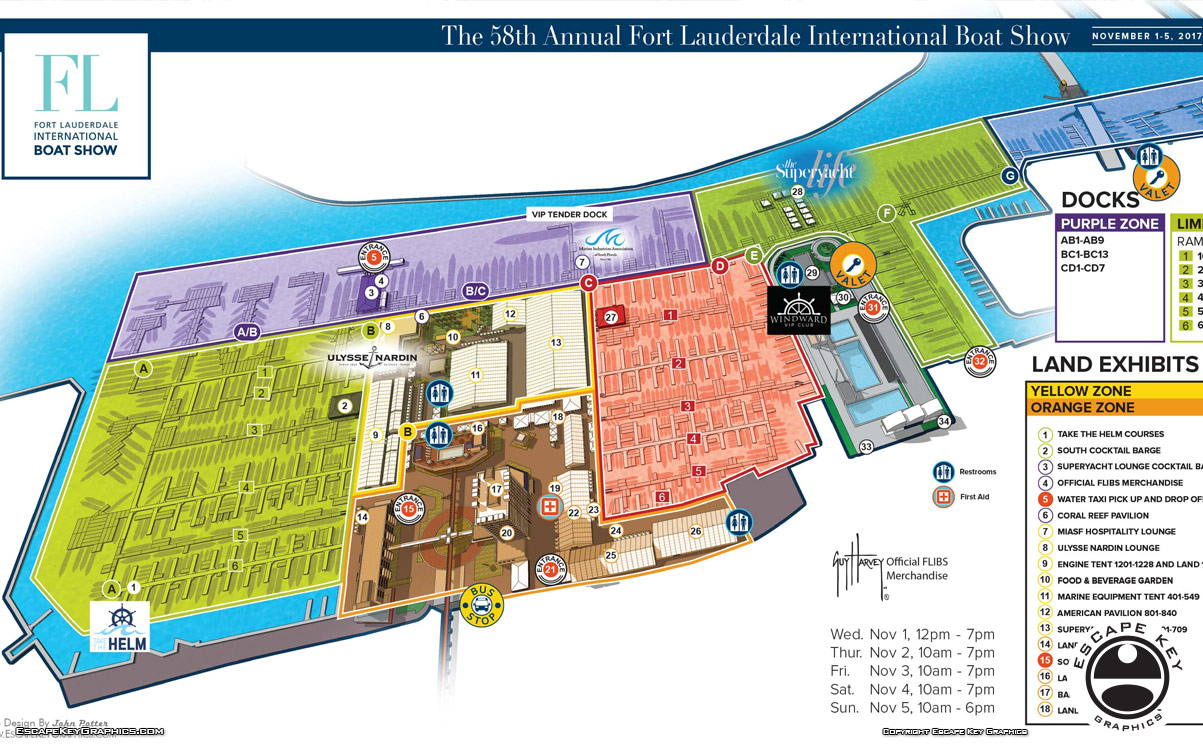 Fort Lauderdale International Boat Show map - As in years past I have updated many of my existing illustrated maps and created many new ones as well for the Fort Lauderdale International Boat Show. This show promises to be a new beginning and a kind of reboot of the show in many ways. I think I may have done more work for this show than in any previous year. The work resulted in 45 high resolution files and if my count is correct 9 illustrated maps, 7 overhead maps, 16 sign designs, 16 illustrations for signs which I didn't design and a few layouts. Fort Lauderdale International Boat Show map.
Over the summer I had done a few experimental renderings showing the show without any surrounding area. The client liked them so we went with that. They wanted to place emphasis on their new color coding system so overlays of strong color were requested. These two changes have altered the look pretty dramatically from previous years and should make the 2017 year map really stand out.
If you're looking for information specific to the boat show visit their site at FLIBS.com
You probably already know my work from other shows if you are a boating enthusiast. Boat shows Escape Key Graphics has designed maps for include: The Fort Lauderdale International Boat Show, The Newport International Boat Show, The Miami Yacht Show (formerly Yachts Miami Beach, formerly The Yacht and Brokerage Show In Miami Beach), The Panama International Boat Show, Strictly Sail Miami, The Palm Beach International Boat Show, The Saint Petersburg Power and Sailboat Show and more.
The illustrated maps I make are less intimidating than site plans and easier to follow than an aerial photography. They have been proven as an effective wayfinding solution in may industries and environments. They can also be seen beyond the yachting industry in theme parks, resorts, wildlife sanctuaries, municipalities, campuses and gardens including Flamingo Gardens, Dinosaur World parks or The Dover International Speedway. I have made maps for locales in the desert, jungle and the great white north.
You can contact me for your conventional illustration needs as well... as in illustrations that aren't maps. Please see my illustration portfolio to review my other illustration work. If you would like to consider contracting me for your project please contact me.
If you would like to see videos of me creating maps please visit my video page.