Art On Permanent Display
Design by John Potter - Escape Key Graphics
Project Management by Holly Bonkowski:
Assistant Director of Cultural Arts - City of Pembroke Pines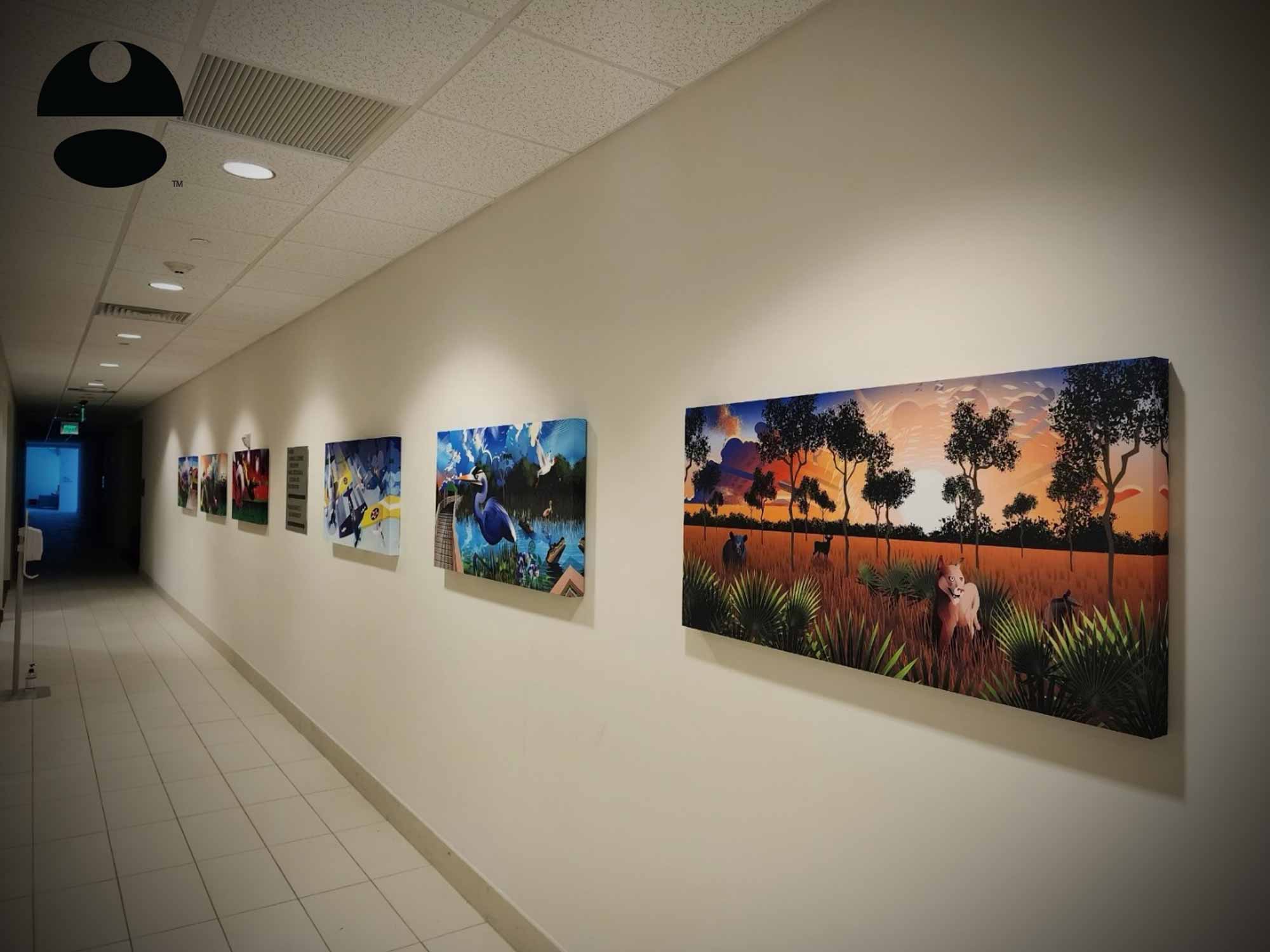 The City of Pembroke Pines will be displaying six of my illustrations (originally created to decorate utility boxes around the city) on the third floor of the Pembroke Pines City Hall. I am obviously very honored.
CITY OF PEMBROKE PINES UTILITY BOX ILLUSTRATIONS:
Sports Illustration
Wetlands Illustration
1960s Illustration
Wilderness Illustration
Soccer Illustration
Golf and Tennis Illustration
Shops Illustration
Airport Illustration
City Center Illustration
Playground Illustration
UTILITY BOX ILLUSTRATIONS - CITY OF PEMBROKE PINES, FLORIDA
I accepted a project from the city in December of 2019 to create illustrations to decorate fourteen traffic utility boxes at ten locations scattered throughout the city. The illustrations were to have the theme "What Makes Pembroke Pines a 'Happy City'" after the city was named one of the Happiest Cities in South Florida in 2019 and 2020 by finance website WalletHub. I first made a bullet list of possible topics of the illustrations. That list got prioritized and altered over time. Holly Bonkowski, The Assistant Director of Cultural Arts, kind of cross referenced the potential topics with the geography of the area and picked spots for illustrations that reflected nearby landmarks and such. That was the starting point.
My process was first to measure all of the boxes and make both flat projection plans of them and models in Sketchup. I wanted at least some of the boxes to have art that wrapped seamlessly around the box. This required precise measurements.
Next I created a pencil sketch for each box for both approval by the city and size and position on the box and reference for the final artwork.
Once approved I took that sketch and used it as the basis of vector art created in Adobe Illustrator. These would be one continuous image like a mural, but I would alter those files to become separate files for each box side at full scale for the printer to print the vinyl.
Although I hadn't initially considered it the Adobe Illustrator files became the basis of animations used for an augmented reality experience attached to the boxes.
Since this project moved so slowly I had time to think things over. I had always intended to do some light animation using Adobe AfterEffects based on the Adobe Illustrator files to keep my skills sharp and beef up my portfolio. I was also looking at some augmented art on-line and thought that was a great alternative to the "selfie opportunity" scenario that so many artists went for when trying to make their art more interactive. I decided at some point that I might as well look in to the possibility of integrating augmented reality into the work. After only a little research I found a software called EyeJack that I found pretty easy to use. I got all excited and began doing tests. I was pleased with the results and shared them with the city. We all agreed it was a good idea. It took some trial and error and some revisions but it worked out great.
Here's how it works...
Be sure to park legally if you're driving. Walk to the box location and install the Eyejack app on your phone. Scan the QR code on the box and then use the app to see this augmented reality experience on one side of the box. It's not always the same side as the QR code so hunt around some. Have fun.