Vector Illustrated Map - Boat Show Map Illustrated
Vector Illustrated Map - It's time for the Palm Beach International Boat Show (March 22 - 25, 2012)
The map now extends further north and south along the West Palm Beach City Commons than it did last year. There are a lot of smaller or less obvious changes as well. I also created a couple of new detail maps that appear in the phone app, so look for those after you download the app. Working with Show Management was great as always. This is one of my largest scale maps to date and I really enjoy tinkering with it. I hope you enjoy the map and the show.
If you haven't seen last year's videos of the process of creation of the The Palm Beach International Boat Show map please have a look.
Additional information on the show is available from Show Management. The phone app is available for download here.
If you would like to use mass transit to get to the show this Trip Planner can be helpful. The address of the West Palm Beach City Commons is 101 South Flagler Drive, West Palm Beach, FL.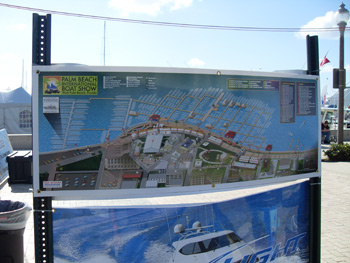 Palm Beach Boat Show 2012 Map as "you are here" sign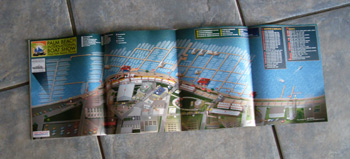 Palm Beach Boat Show 2012 Map as printed in the program