Aerial Map - Aerial View Illustrated Map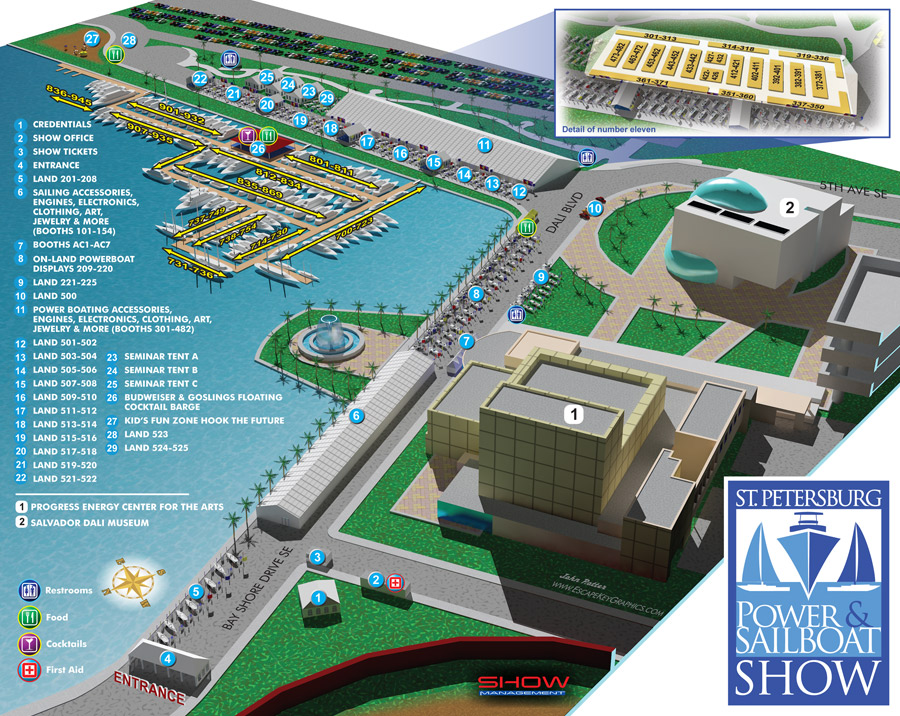 I wanted to do something new this year for the St. Petersburg Power & Sailboat Show map. It had occurred to me that when it comes to recurrent events a virtual 3D model created in a modeling software could have some advantages. Mainly the angle and the lighting could be altered from year to year without having to start all over again. This could provide a new look for the map every year without a lot of labor.
I wasn't sure just how difficult this would be or if it was even realistically feasible. I wanted to make any test as authentic as possible so that any issues that would effect a real world situation could be identified and hopefully resolved. Considering the scale of such a test I thought it was best to just go ahead and start with a real project. The St. Petersburg show map seemed like a more manageable scale than most of my recurring events so I chose it and began. After a bit of tinkering I felt sure it was possible and showed the partially complete model to the folks at Show Management. They were open minded enough to see the potential and gave me the green light to proceed. We are all pleased with the result. I hope you enjoy it too and have a great time at the show.
The boat show will be Nov. 29 through Sunday, Dec. 2, 2012. If you need additional information about the boat show visit www.ShowManagement.com.