Boat Show Aerial View Map
---
Boat Show Aerial View Map - I'm very excited to unveil the 2013 Palm Beach International Boat Show Map. This is just the latest of my 3D rendered maps, but in many ways the most ambitious and the first I have made a time lapse video from. The map encompasses an area known as the Palm Beach Waterfront and City Commons as well as extending south along Flagler Drive. This map includes a lot of buildings compared to most of my boat show maps. Buildings include Meyer Amphitheater, the PNC Bank Building, Esplanade Grande, The Strand, McKeen Towers, Trump Plaza and more. These landmarks should be of great help to visitors to the show in orienting themselves within their surroundings. The original, vector based map was also revised and is used in the free boat show phone app.
The map will appear in the boat show program available for free at the show and on signage throughout the show. It will also appear in the Palm Beach Boat Show special section of The Palm Beach Post and Palm Beach Daily News' annual broadsheet section about the show. If you didn't see my previous post showing the map/model from different angles please have a look.
The 3D mapping technique has required me to learn several new software packages. The work itself comes first and this is the first time I felt absolutely positive that I was proficient enough with the new software that making a time lapse video couldn't pose any undue distraction. The project was large and lengthy as you can see in the video, but I left out large chunks of time from the video because even at a vastly increased frame rate it becomes a little tedious. You may notice that the final map extends further south and the docks extend further out than in the video. That was the result of late stage revisions. I skipped recording the setup of the labeling, keying and page layout as well.
I hope you enjoy the video and the final map.
If you are an exhibitor in the show and would like a map highlighting your exhibit area for your marketing purposes please contact me for a quote.
Additional information on the show is available from Show Management. The MyBoatShow phone app is available for download here.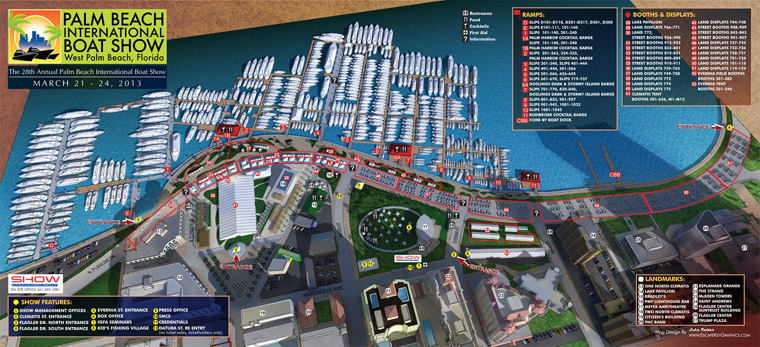 2013 Palm Beach Boat International Show Map




2013 Palm Beach Boat International Show Map as it appears in the MyBoatShow phone app


2013 Palm Beach Boat International Show Map - Detail 1


2013 Palm Beach Boat International Show Map - Detail 2


2013 Palm Beach Boat International Show Map - Detail 3


2013 Palm Beach Boat International Show Map - Detail 4