Animal Sanctuary Illustrated Map - Wildlife Sanctuary Map with an Architectural Feel and Cartoon Style Animals for Visitors the Refuge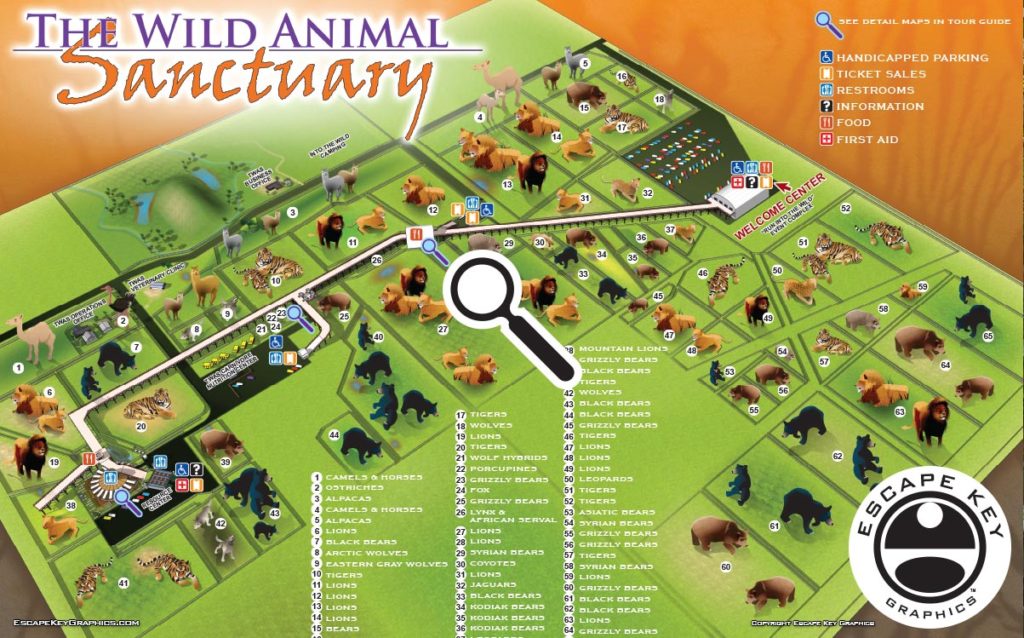 Animal Sanctuary Illustrated Map - I just completed three maps for the Wild Animal Sanctuary in Keenesburg, CO near Denver. The project has been a real joy and working with their founder, Pat Craig was awesome. You can learn more about the sanctuary on their website: www.WildAnimalSanctuary.org
This map was done in a new way, or perhaps more accurately this map was done using a combination of techniques I've never combined before. The Wild Animal Sanctuary is growing at a rapid pace and it's obvious that this map will need to be expanded upon in the future. The expansive nature of the facilities is something that needs to be conveyed, especially since the elevated walkway is referred to as the "Mile Into The Wild" Walkway. The sanctuary has more of a free range feel than a typical zoo feel to it. Conversely there are some areas of interest like the Tiger Roundhouse that really need more detailed supplemental maps preferably from different angles.
Keeping these facts in mind I concluded that a model built in Sketchup would best suit many of their needs, but I also wanted to introduce some fun animal illustrations to the main map for some fun and color. As a result I ended up building in Sketchup, editing in Photoshop and then illustrating on top of the result in Adobe Illustrator. The supplemental maps were rendered from Sketchup then edited in Photoshop. Of course after these steps the keying, icons, labeling and any other graphic stuff on all of the maps was done on top with Adobe Illustrator.
With this project complete and successful I hope to interest more sanctuarys, zoos and parks in having me design and illustrate some more great visitor's maps.