Civic art - illustration of a city facility
Illustration/Art by John Potter - Escape Key Graphics
Project Management by Holly Bonkowski - Assistant Director of Cultural Arts - City of Pembroke Pines

This is one in a series of vinyl wrap illustrations I created for The City of Pembroke Pines, Florida. The illustrations are being used to beautify utility boxes at intersections throughout the city.
This specific box is at the intersection of Pines Boulevard and Flamingo Road on the southeast corner. This concept was from the city's Assistant Director of Cultural Arts, Holly Bonkowski. She likes my vector based style so that was a given. This was the first utility box/boxes I worked on for the city and they requested a sketch or some form of preliminary work before I knew the location or the measurements of the boxes.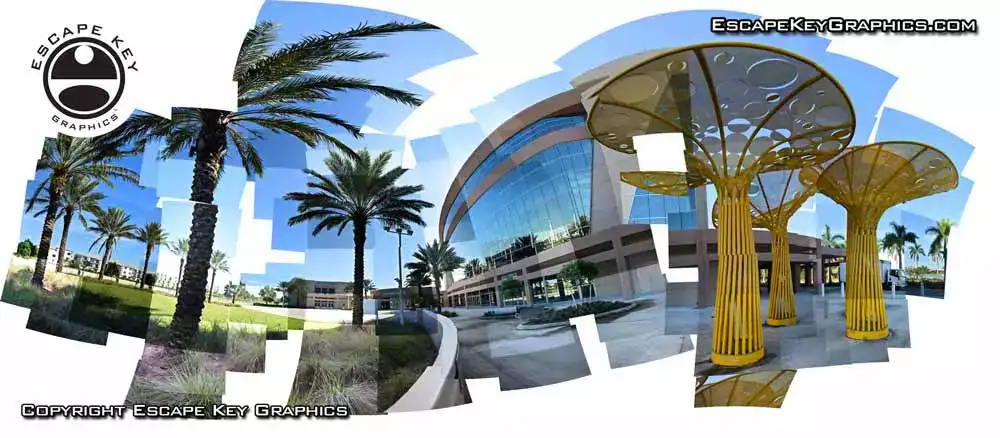 First I shot some photo reference and did some funky editing on that. Using that for inspiration I made a sketch which the client liked.
Once a location was established I went on site and measured the box. I created both a flat, scale, projection drawing of the box and created a 3D model in Sketchup. The model allowed me to see how the sketch would really fit wrapped around the boxes and the flattened projection was necessary to create final art that wraps seamlessly around the boxes. It was frankly amazing that the work I had already done fit on the complex arrangement of different sized and shaped boxes so well. It was simply luck. I was fully prepared to make major revisions.

Once I had final artwork I used Sketchup to apply it to my 3D model and see what the final product should look like on the boxes as well as see how it looks from the position of drivers sitting at different locations at the intersection.
I provided print ready art to the vinyl printer and installer to ensure that my vision makes it on to this utility box. The installation will be challenging nonetheless.
Be sure to look for this artwork at the intersection of Pines Boulevard and Flamingo Road on the southeast corner. It's near the Pembroke Lakes Mall and C.B. Smith Park.