Illustrated Boat Show Map for Exhibitors and Guests
Illustration and Design by John Potter - Escape Key Graphics
For information on attending the Saint Petersburg Power and Sailboat Show please visit
StPeteBoatShow.com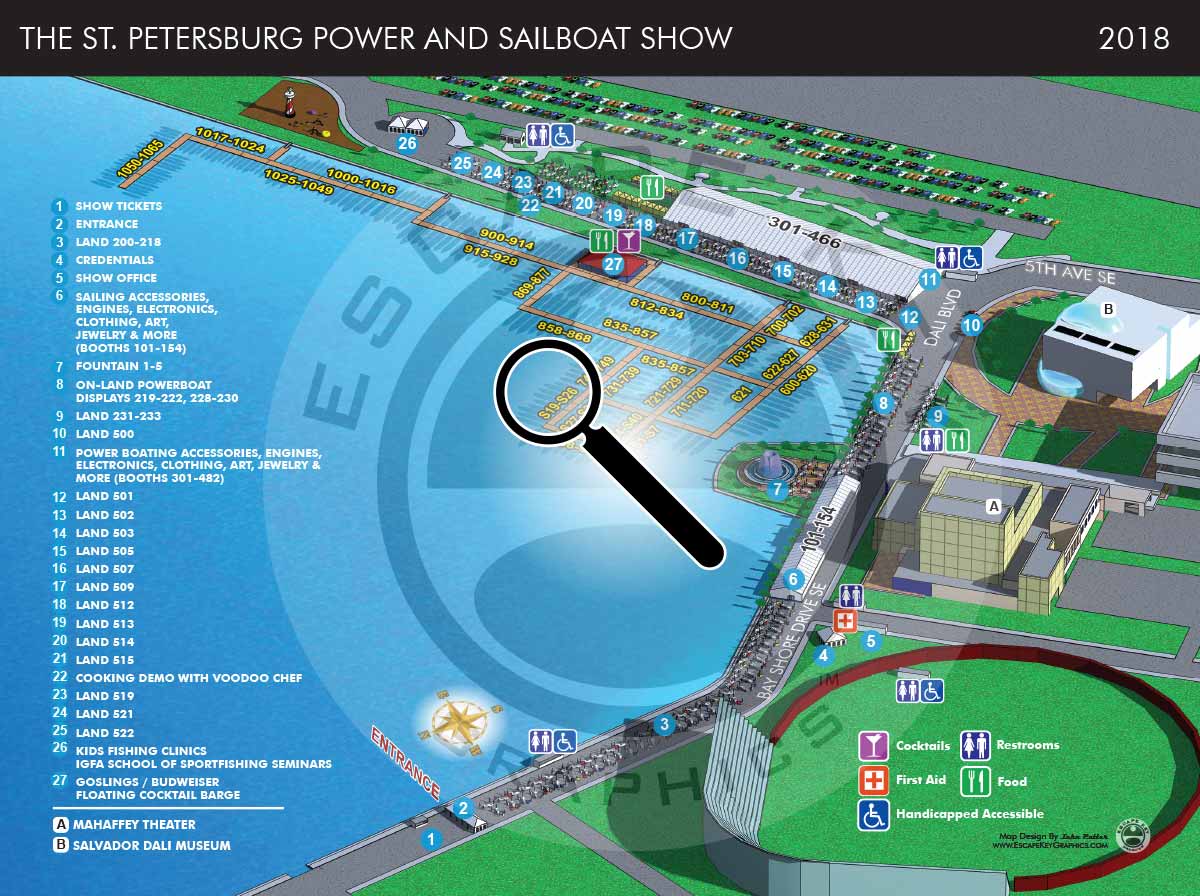 St. Petersburg Power & Sailboat Show Maps
2023 | 2022 | 2021 | 2019 | 2018 | 2017 | 2016 | 2015 | 2014 | 2013 | 2012 | 2011

This year's map is zoomed out a little more to accommodate the entrance being just a little further north. I also changed the angle just a hair. Had I made this map an axonometric drawing I could have zoomed out okay, but I could only change angles because this map is really a model made in Sketchup. Contact me if you would like to have an illustrated map for your event or venue.
If you agree to the terms of use and would like to include the zoomable map of the 2018 St Petersburg Power and Sailboat Show on your site copy the code in the box below and paste it in your site's code:
<iframe src="http://escapekeygraphics.com/informa/st-pete-boatshow/" width="100%" height="800px"/></iframe>
TERMS OF USE:
You are free and even encouraged to put this map on your site (including your business site) for non-commercial use at no charge. Non-commercial use in this case means you aren't allowed to add your own graphics, deconstruction or modify the map and/or associated code in any way including (but not limited to) adding a marker for your business location (Use in print is also prohibited without purchasing rights). Use of the unmodified iframe only is permitted. If you would like to purchase rights for commercial use and/or use of the map in print please contact Escape Key Graphics. Neither Escape Key Graphics nor Informa is responsible for any misuse or damages caused by this content which is supplied in good faith. This content is provided as is and without technical support.
---
MAPS YOU CAN PUT ON YOUR SITE:
Miami Yacht Show 2019
Miami Yacht Show 2019 Transit
St Pete Boat Show Map 2018
FLIBS 2018
FLIBS 2018 Conv. Ctr. Map
FLIBS 2018 Sailfish Pav. Map
Parking FLIBS 2018
Miami Yacht Show 2019 Proposal
Palm Beach Boat Show 2018 Map
Parking Palm Beach 2019
For more information about boat show illustrated maps visit BoatShowMaps.com.
---
PORTFOLIOS:
By Software Used:
By Application or Use:
By Method: