International Boat Show Map
I have just completed the map for the 2010 Fort Lauderdale International Boat Show, which takes place annually here in beautiful Fort Lauderdale, Florida. It's the biggest boat show in the world and a real big deal here in town. Estimates show that last years show brought about $500 million into the local economy. International Boat Show Map.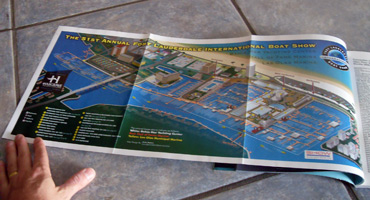 Printed Map
Show Management; the company that puts on the boat show, wanted me to design a friendlier, more illustrative map than the map they had used in previous years. They were very short on time and it was a real challenge. The rendering was based on CAD drawings provided by Jeremy Thayer over at Show Management and the project simply could not have been done in such a short time frame, or with as high a degree of accuracy without those drawings as a foundation. Also...GPS can't help me when the floating docks aren't in place yet. Daily updates and a few frenzied meetings with Marketing Director, Steve Sheer and Web Manager, Paul Brown (both also of Show Management) kept me on track.
This is one of the largest and most comprehensive projects I have ever undertaken and with a very tight deadline. The project came in on time and the client and I are both pleased with the result.

I ran an ongoing screen capture as I have done with previous projects (find them on my "Design and Illustration Videos" page). I didn't capture everything, but completing the project on time and up to standards was more important than screen capturing. The speed is doubled six times or more over giving you the ability to see how I work and the thought process behind it without being burdened by specifics of technique. The project was done primarily in Adobe Illustrator, although I do jump to other programs for a second every now and then as you will see in the video.
For more about my map designs visit my site...attractionmaps.net
Visit Show Management and learn more about the 51st Annual Fort Lauderdale International Boat Show at http://www.showmanagement.com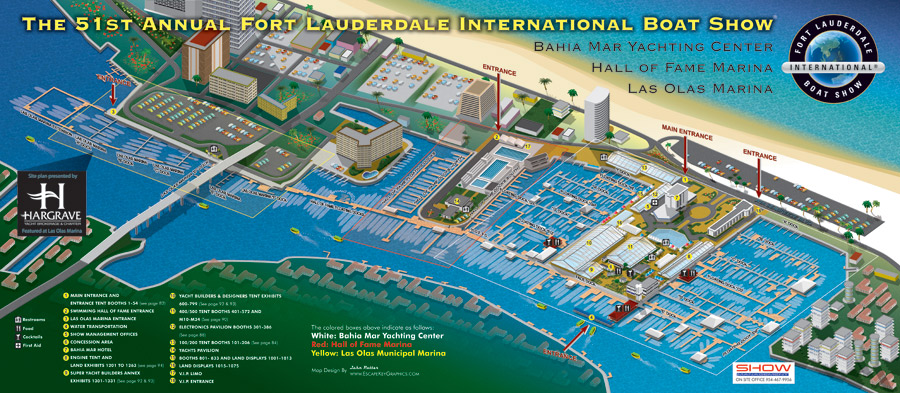 Also of note...I designed the map for the convention center as well.