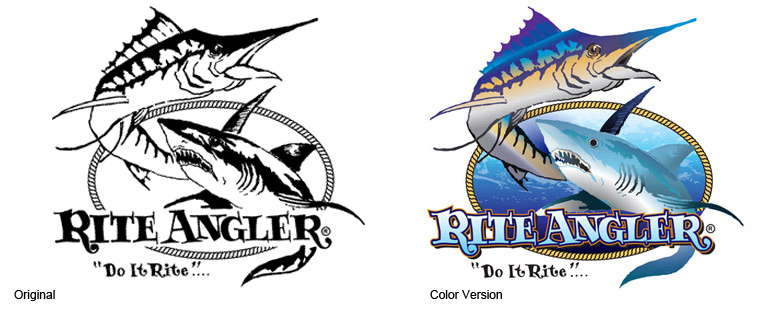 Colorizing a Logo
Colorizing a Logo - I was recently approached by Rite Angler, a tackle shop in Fort Myers, Florida, with a project. They already had a rather intricate illustration as a logo, but it was in black and white only and they wanted a color version. They didn't want the drawing itself changed other than to make it in color. I took on the project and had a lot of fun with it. The logo is entirely vector based, so there will be no issues with enlargement or reduction. Rite Angler is sure to get many years of usage out of their new upgraded logo.
To learn more about Rite Angler visit their website at RiteAngler.com
Contact me for your logo, or colorizing logo needs.
Other stuff about logos:
---
I have over twenty years of experience in illustration and graphics. Clients range across multiple industries, states and countries including large corporations and small businesses. Projects include illustration and design of maps, book covers, posters and more.
Escape Key Graphics is based in South Florida but has clients worldwide. Contact me for a quote on your next project.
If you would like to see more about my background please visit my LinkedIn Profile.