Miami Boat Show Maps
Miami Boat Show Maps - The Miami Boat Show actually consists of three boat shows. The Miami International Boat Show and Strictly Sail Miami are both managed by The National Marine Manufacturers Association (informally known as NMMA), and The Yacht and Brokerage Show is managed by Show Management.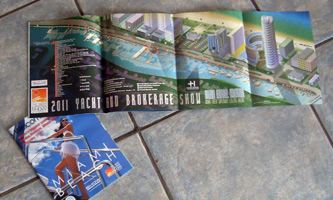 Printed Map of Collins Ave. Site
(I did not design the program cover)
NMMA contracted me to design maps for The Miami Beach Convention Center, Sea Isle Marina & Yachting Center and Miamarina at Bayside venues. Show Management contracted me to design a map for the Collins Avenue venue. Yachts International Magazine worked out an arrangement with Show Management to use the Collins Avenue map at a plateau point in development. NMMA also ended up needing a bus and water taxi route map.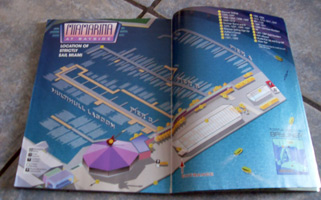 Printed Map (Bayside)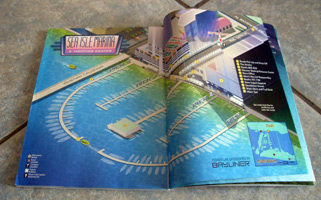 Printed Map (Sea Isle Marina)
As you can see this was a large project. Although each of the maps held its own inherent challenges, The Miami Beach Convention Center map and the Collins Avenue maps were particularly challenging. Both were large with The Miami Beach Convention Center map being a three-page fold out and the Collins Avenue map a four-page fold out.
The Collins Avenue map was a challenge simply due to its immense scale, its complexity and the necessity to produce a presentable midway point in development for Yachts International Magazine. The Miami Beach Convention Center map was challenging in its uniqueness. It required me to show three floors of the building, which are not shaped alike at all, in way that made their relative positions obvious to a visitor. It was a lot of fun and I managed to work in a nice Miami Beach color palette as well.
As I have done in the past I recorded a lot of the work as I was doing it for use in two time lapse videos. I thought it was just too long as one video and I'm trying to keep them short. This time I threw in some real world video and some clocks at some points to give you an idea of how much the video has been accelerated (it is not consistent). I hope you like them.