International Boat Show Illustrated Map - Illustrated map for a boat show in Palm Beach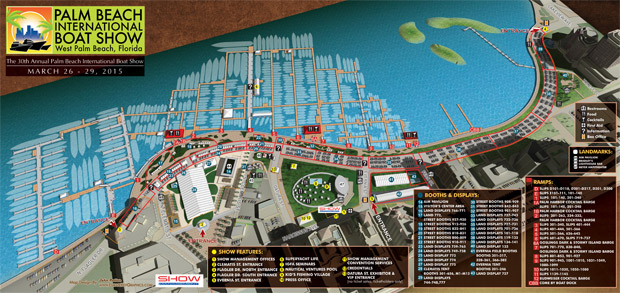 I have just completed the illustrated map for the 2015 Palm Beach International Boat Show. This is my fifth year creating the map and it's still exciting. This year the show expanded once again to the south. If you attend the show every year you may be surprised at just how much the map has changed in the past five years. Below you can see previous years maps for comparison as well as some sign examples.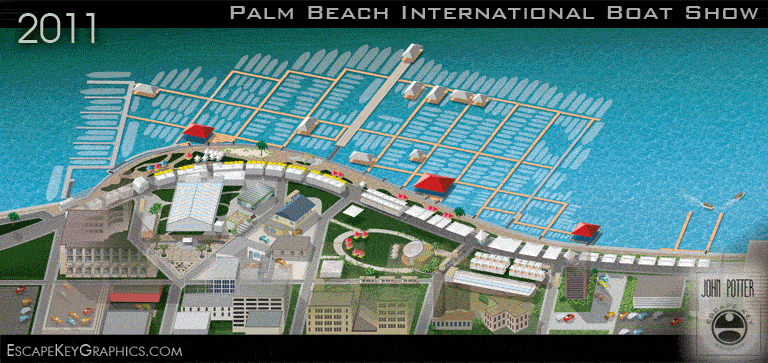 The 30th Annual Palm Beach International Boat Show, March 26 - 29, 2015. Get show details at ShowManagment.com
See the map in use on the Palm Beach Daily News' site



Boat shows Escape Key Graphics has designed maps for include: The Fort Lauderdale International Boat Show, The Newport International Boat Show, Yachts Miami Beach (formerly The Yacht and Brokerage Show In Miami Beach), The Panama International Boat Show, Strictly Sail Miami, The Saint Petersburg Power and Sailboat Show and more.
---
Escape Key Graphics' vector based maps can be blown up to a poster of any size with little or no degradation and Escape Key Graphics' 3D maps can be rendered from different angles and zoom extents creating endless new possibilities. The 3D method can also provide a more realistic look than the vector method. In both cases buildings, paths and everything else in your map is like an object that can be moved, shrunk, deleted, etc, making revisions easy and quick. Expansion of your park, site, or facilities seldom means recreating your map from scratch.