Frequently Asked Questions - MAPS FAQ
What is the difference between your vector and 3D maps?
Since I began using 3D software for some projects in 2012 our maps have fallen into two primary categories: vector based and 3D.
Vector based graphics are basically a collection of shapes characterized by their ability to be enlarged without the image degrading (read more about the image degrading thing here). My vector based maps are also isometric. Isometric drawings don't have realistic perspective. Things further away don't appear smaller and there are a limited number of perspectives the drawing can be done from. The advantages are that it can be enlarged without degrading, they are generally bold and slightly cartoon like look and everything on the map has equal importance since things at a distance don't get smaller.
My 3D maps are kind of like architectural renderings. They result in bitmap graphics which do degrade with enlargement and they are more labor intensive to produce than vector based maps. The advantages are that they look much more realistic than the vector based maps, they can be rendered from any angle and the angle can even be changed since it's really a model. These maps also feature realistic lighting and shadows which can simulate specific times of day. These maps are also good for repeat use since the model can be re-rendered from different angles to give a whole new look without starting all over.
If you want to more fully understand the difference between vector based and bitmap images please view this article.
Isometric perspective
Real (3D) perspective
Spans of numbers
Can you include the name or number of every exhibitor in each booth at my event?
Usually I cannot due to the size of the final printed map. In most cases the type would be too small to be legible. Common solutions include showing spans of numbers, or printing separate enlarged areas of the map with numbers included or using a key. An other creative solution is to use categorized by areas, docks, sections etc. (Illustrated maps from Escape Key Graphics are not, and make no attempt to be a substitute for a site map. Illustrated maps are something different all together.)
Same site plan in perspective
(200 px wide)
Site plan (200 px wide)
Should I print my site plan as well as the map Escape Key Graphics has designed?
That's up to you. If it is essential that you show each booth number printing your site may be helpful. By the very nature that a site plan is drawn from overhead and is usually grid like as opposed to the perspective of an illustrated map makes individual booths larger. Also...tiny type is usually more legible when it's not on an angle. Also an illustrated map is already a little busy due to the simple fact that it is illustrated and type on top of that just makes it too busy and impossible to read (usually). Illustrated maps from Escape Key Graphics are not, and make no attempt to be a substitute for a site map. Illustrated maps are something different all together.
See my definition of Site Plan below
Do you make a time lapse video from every project you do?
No. There isn't always a lot of logic to when I make videos from projects.
You can see all of my videos on Vimeo
Can I request that you do or do not make a time lapse video from my project?
Yes, and I always ask permission from the client before releasing a video and show them an unpublished copy beforehand as well.
You can see all of my videos on Vimeo
What resources do you need to make a map?
Every project is different. I have used site plans and blueprints. I have used aerial photography and I have collected my own GPS data. Usually some combination of those techniques is used to ensure accuracy. I also usually need to ask a lot of questions and use a lot of photographs.
Information collected on location
Do you need to visit my venue to make a map?
Of course I always like to see the venue I am rendering, but it's not always essential. If a site is obscured from aerial photography I may have no choice but to visit and collect GPS data. If a site is large, complex or intricate a visit to the site usually reduces the number of questions I need to ask later and saves everyone a lot of time on the phone or sending emails (I will still have questions though).
Should I wait until my park or venue is busy for you to visit?
Not at all. I prefer visiting on slow days or even closed days when facilities are less crowded. If your facility is seasonal and you would like me to visit in off season, don't worry about the flowers not being in bloom or the paths being unswept.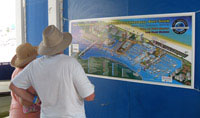 Ft Lauderdale International
Boat Show "You Are Here" Sign
Enlarged area of map
Can my map really be enlarged as much as I want without any lose of image quality?
VECTOR BASED MAPS: Yes, but there is more to it than that. Although the maps I make are vector based they are too complex to be one big vector based file, so I have to break them into many layers. The end result is the key and text over the illustration as a bitmap file. If it is necessary to increase the resolution of that bitmap file I will need to make some changes to every layer. In extreme cases I may need to break layers into more layers.
This is how I generally handle resolution of files... If a client tells me their map is only for print at one size I will prepare the map for that one size at 300 DPI. If they tell me they are planning on making signs as well I make them 900 DPI.
3D MAPS: No. There is a limit to how much our 3D style maps can be enlarged without image degradation. They can still be enlarged quite a bit though, so discuss it with me and we can see what is possible for your specific situation.

Yellow area is proportionate
to 8.5"X11" while the whole area
is proportionate to 4'X8'
Can my map be enlarged to make a 4'X8' (or some other size) sign?
Yes, but remember that your sign needs to be proportional to the map I created for you or adjustments will need to be made. For instance an 8.5"X11" map doesn't proportionately enlarge to 4'X8'.
What kind of files do you provide when my map is ready for use?
I usually provide files sorted by print and web. Print usually consists of an EPS, TIF or AI and a PDF file to give the printer some formats to choose from. Web usually consists of a low resolution PDF, a JPG and files for a zoomable version of the map. If you need different or more formats let me know.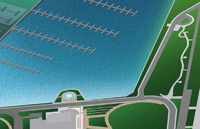 Map in progress
Do I get to see anything before my map is finished?
I send clients frequent updates showing them progress as I build the map. This allows the client to ensure that accuracy is maintained and make any necessary corrections early on.
This video of the map for Dinosaur World in Kentucky shows examples and this video of the creation of the map for The Newport International Boat Show opens with examples of updates.
Created using the same software
I use for making vector
based maps
Do you use some special software or shortcut methods?
No. My maps are the product of hard work (as you can see in my videos) and creativity and as a result are fully editable. I use standard illustration software that is not customized for map creation. The few shortcuts I use I programmed myself. I have used the same type of software to illustrate book covers, posters etc.
I used some special software or shortcut method. Can you fix the result?
Maybe. I would need to see the files before I can be sure.
It's easier and more affordable to hire Escape Key Graphics to design your map in the first place.
Book cover painted in oils
Do you do other types of illustration?
Yes. Please have a look at my portfolio.
Kimball Farm map as a sign
I do not make signs, but I am willing to work with your sign shop to help achieve your goals and/or help you find a suitable sign shop if you need one.
How much does a map cost?
Each project is different. Please contact me with more information. Also see next two points below.
Can you give me a rough estimate?
I don't give rough estimates because they would have to be unfairly high. I have to assume that everything I don't know will be complex and time consuming in order to ensure that I receive fair payment.
Imagine hiring a flooring company to tile your home, but not telling them the exact square footage. They would have to overestimate and then add more. This is a similar situation.
What do you need to make an estimate or quote?
To make a quote I need as much information as possible. Each project is different so I don't want to try to create a form to fill out, but here are some guidelines…
Please provide the north, south, east and west limits of the map and how much detail is needed. The amount of detail usually amounts to the number of points of interest that need to be illustrated. There can be additional factors like travel, if necessary and labor if I am required to map the venue with GPS. Whether you require the vector or 3D method can also be a contributing factor, so please also mention that if it is applicable.
How long does it take to make a map?
Each project is different. Please contact me with more information.
Definitions:
Map: A diagrammatic representation of an area of land or sea showing physical features
Site Plan: An architectural plan, blueprint or detailed engineering drawing usually in CAD and from an overhead view
Map Key: Explanatory table of symbols used on a map
READ MORE
Icon: A representative symbol of something
Vector Graphics (or maps): Graphics made of shapes
READ MORE
Bitmap graphics (or maps): Graphics made of pixels
READ MORE
Isometric perspective: A fake type of perspective where things at a distance don't get smaller
Real (3D) perspective: Perspective like you see with your eyes
maps faq