Brochure Design and Illustration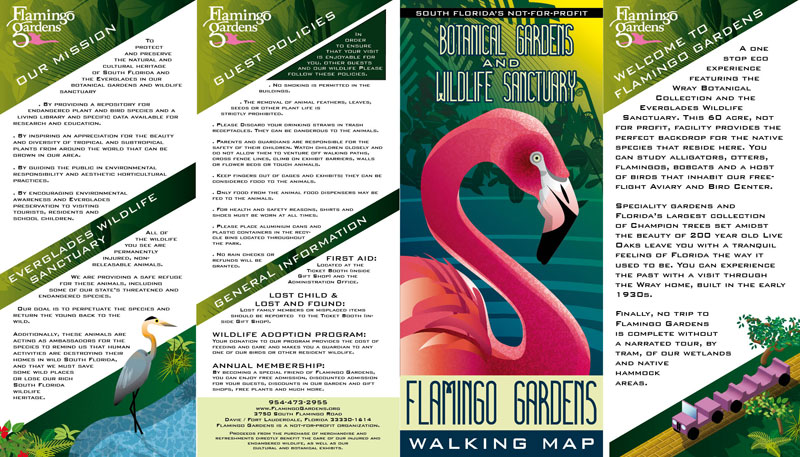 I am pleased to announce that Flamingo Gardens will be releasing their new map as well as a new brochure of my design within the next few days to weeks.
I've posted a lot about the map already, but I haven't mentioned the brochure that is the other side of the printed map.
It is highlighted by an illustration I did in Adobe Illustrator in kind of an Art Deco style to fit with the historic and classy nature of the venue. The font used in the title is "Potter Slim Deco", which I designed and is available for sale from the downloads page. The spot illustrations are largely made from pieces of the map, thereby tying it all together. The final brochure was constructed in Adobe InDesign.
A larger image of the main illustration alone can be seen in the illustration gallery.
---
Escape Key Graphics' vector based maps can be blown up to a poster of any size with little or no degradation and Escape Key Graphics' 3D maps can be rendered from different angles and zoom extents creating endless new possibilities. The 3D method can also provide a more realistic look than the vector method. In both cases buildings, paths and everything else in your map is like an object that can be moved, shrunk, deleted, etc, making revisions easy and quick. Expansion of your park, site, or facilities seldom means recreating your map from scratch.
Escape Key Graphics can create great maps for boat shows, towns and cities, campuses, hospitals, housing complexes or just about any other place. Escape Key Graphics can show how work flows through your factory, how an ecosystem works or produce any of a number of other map like visual solutions.
Other projects and clients include: