Illustrated Aerial View Campus Map
Illustration and design by John Potter - Escape Key Graphics
Click on the image above to zoom in.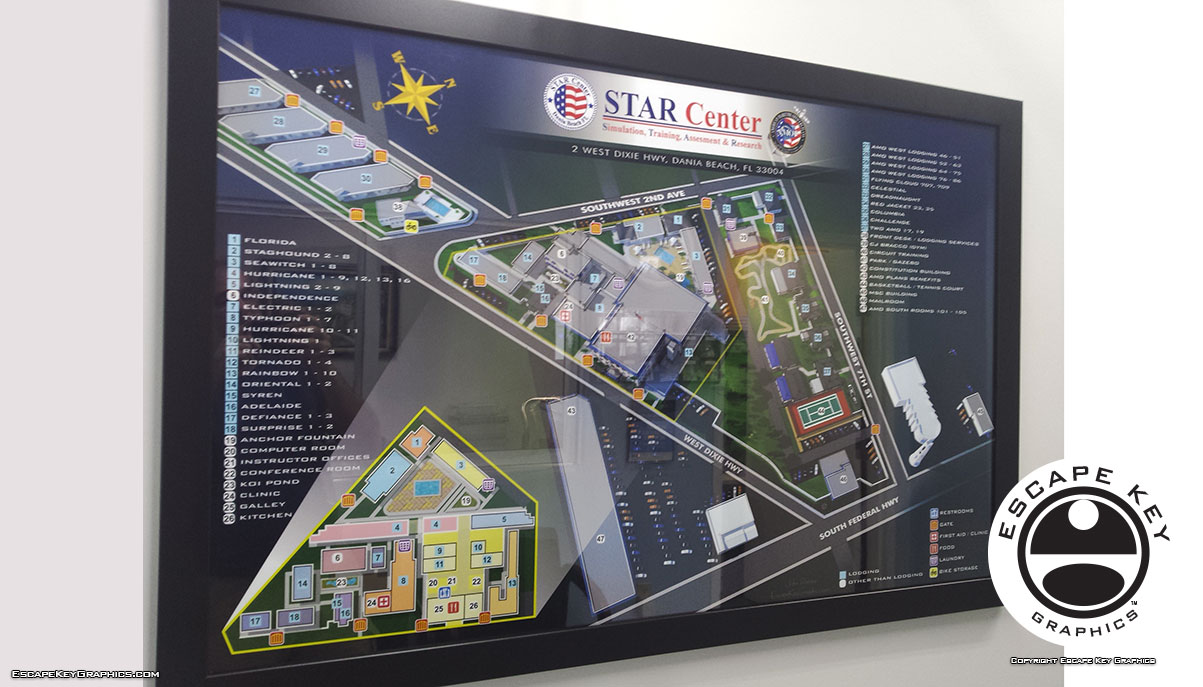 contact me for your next illustrated map project.
For more information about American Maritime Officers' Star Center visit their site at AMO-Union.org. American Maritime Officers is the largest union of U.S. merchant marine officers. American Maritime Officers members work aboard commercial, military sealift and government vessels in domestic and international deep-sea trades and missions, on the Great Lakes and in U.S. inland waterways and harbors. Their campus is conveniently located in Dania Beach, Florida close to the Fort Lauderdale/Hollywood International Airport.
SKETCHUP ILLUSTRATIONS:
WHAT IS SKETCHUP?:
SketchUp, formerly Google Sketchup, is a 3D modeling computer program from Trimble Inc. It's uses range from architectural, interior design, marine architecture, civil and mechanical engineering, to film and video game design. SketchUp isn't for character design or anything like that, but it's great for architectural rendering and technical projects using basic shapes. When I first started using SketchUp in 2012 for The St. Petersburg Power and Sailboat Show map I was just looking for an alternative to isometric drawing for map illustration. Since that time I have found a broad range of uses for SketchUp and use it on an almost daily basis. If you would like me to build something for you in Sketchup please contact me for a quote.
TOWN AND CITY MAPS:
(and maps of similar areas)
TOWN, CITY & NEIGHBORHOOD MAPS:
I've have created many illustrated maps over the years showing downtowns, neighborhoods and sometimes whole cities. These maps vary in nature based on the area involved. Most span an area of a few city blocks or the equivalent. At that scale I can include a fair amount of detail and use accurate scales for buildings and such and you can still tell what you are looking at clearly. In a smaller area I can provide even more detail to the illustration, but when you need to see many, many city blocks I usually have to switch to a less literal rendering approach. I may have to take license with exaggerated scales of buildings or cartoon like renderings of points of interest. This makes for a less literal illustrated map.
With the first scale of maps at a few city blocks I have a standard, tried and true method that I've used many times. This is not to say that I am inflexible or not open to new ideas but generally speaking I can get down to work right away on one of these maps without much conversation. Assuming, of course, that the client wants a similar illustrated map to previous ones I've made.
With the larger scale maps the client has many options right off and I need to ensure that I give them what they want. This necessitates a little more conversation and consulting before I begin.
I also create overhead maps including street maps. These range from the simplified to the extremely detailed. Now using Geodata (computerized geographical data that can be used to create maps and add information to those maps) I can add levels of detail, and accuracy that would have been impossible (for me at least) a few years ago.
PORTFOLIOS:
By Software Used:
By Application or Use:
By Method: