Planning Graphics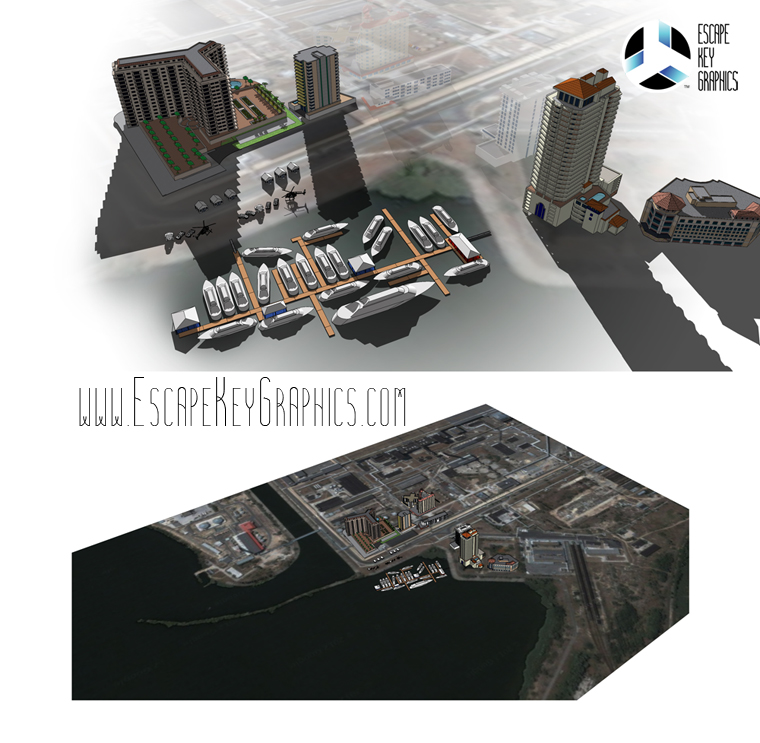 Planning Graphics - I have recently worked on a few proposal illustrations for outdoor events and shows with great success. The method I have been using places models I build (or have supplied to me) onto aerial photography at accurate scale. This gives a very realistic impression of what a show or event will look like in real life and how everything fits together. I can render the scene from multiple angles and even control the direction of the shadows. The example here shows an aerial photo with models of boats, docks and buildings I built and added. If you have an upcoming event and would like my help in planning or proposing please contact me.
---
Escape Key Graphics' vector based maps can be blown up to a poster of any size with little or no loss of resolution and Escape Key Graphics' 3D maps can be rendered from different angles and zoom extents creating endless new possibilities. The 3D method can also provide a more realistic look than the vector method. In both cases buildings, paths and everything else in your map is like an object that can be moved, shrunk, deleted, etc, making revisions easy and quick. Expansion of your park, site, or facilities seldom means recreating your map from scratch.
Escape Key Graphics can create great maps for boat shows, towns, campuses, hospitals, resorts or just about any other place. Escape Key Graphics can show how work flows through your factory, how an ecosystem works or produce any of a number of other map like visual solutions.
Other projects and clients include: