Illustrated map of the Cabrits Resort and Spa Kempinski in Dominica

This post is about the illustrated map only. For information on Cabrits Resort & Spa Kempinski Dominica please visit their official site.
This was an exciting project for a large and brand new resort on the island of Dominica. The project was handled by Anything But Advertising and I was just a part of it all. I was honored to have the help of many folks on staff with Cabrits Resort and Spa Kempinski as well and their feedback was indispensable.
Anything But Advertising contacted me after seeing the work I have done for Treasure Cay Resort in the Bahamas. I was obviously thrilled to create another Caribbean resort map. The resort is still under construction so it took some creative problem solving to get the map as accurate as possible.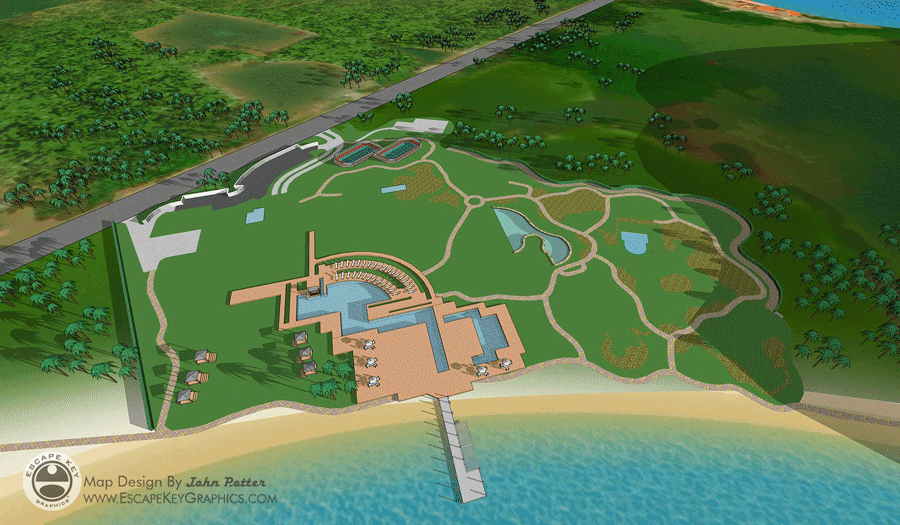 I created the illustration using Sketchup with some Photoshop retouching. The graphics, like the key for instance, are done with Adobe Illustrator. I made the lighting a late afternoon so that I could show the shadow of the nearby mountain.
If you have a need for an illustrated map similar to this please contact me.
RESORT MAPS:
ABOUT RESORT MAPS:
If you want your guests to find things at your resort easily and without complaints and you would like to save your staff time from doodling directions and giving directions then you need a good map for your resort. At this point I have created resort maps for a variety of venues. Of course many have related to the marine industry and include resort marinas, but I have also worked on some maps for places far inland. These have included maps with rustic rental cabins in the woods up to high end spas by golf courses. I have also illustrated architectural renderings of the interior floor plans of rental apartments at a resort. My clients repeatedly tell me that these maps are a valuable resource to their guests and save their staff valuable time.
PORTFOLIOS:
By Software Used:
By Application or Use:
By Method: