Illustrated Guide Map - Public Botanical Gardens Picture Map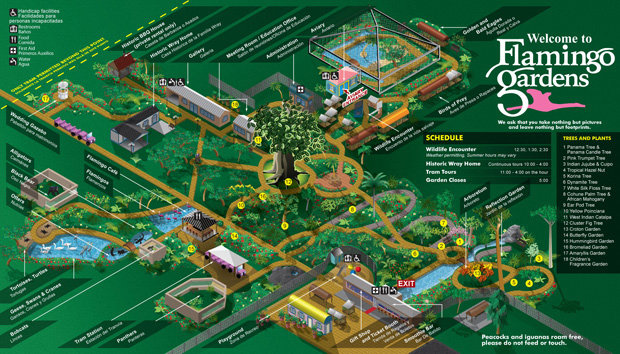 Illustrated Guide Map - Just an update that I recently made some revisions to the Flamingo Gardens illustrated map I created back in 2010. The biggest changes are a much greater emphasis on the big cluster fig tree that serves as a great landmark to visitors and some color changes to paths to more clearly differentiate secondary paths.
You can see the time lapse of the original map creation below and if you would like information about visiting the gardens be sure to visit their website at flamingogardens.org
---
Escape Key Graphics' vector based maps can be blown up to a poster of any size with little or no degradation and Escape Key Graphics' 3D maps can be rendered from different angles and zoom extents creating endless new possibilities. The 3D method can also provide a more realistic look than the vector method. In both cases buildings, paths and everything else in your map is like an object that can be moved, shrunk, deleted, etc, making revisions easy and quick. Expansion of your park, site, or facilities seldom means recreating your map from scratch.
Escape Key Graphics can create great maps for boat shows, towns and cities, campuses, hospitals, housing complexes or just about any other place. Escape Key Graphics can show how work flows through your factory, how an ecosystem works or produce any of a number of other map like visual solutions.
Other projects and clients include: