Dog Park Street Art
Illustrator: John Potter - Escape Key Graphics
Acrylic Paint (20'x8'6")
Click on the image above to zoom in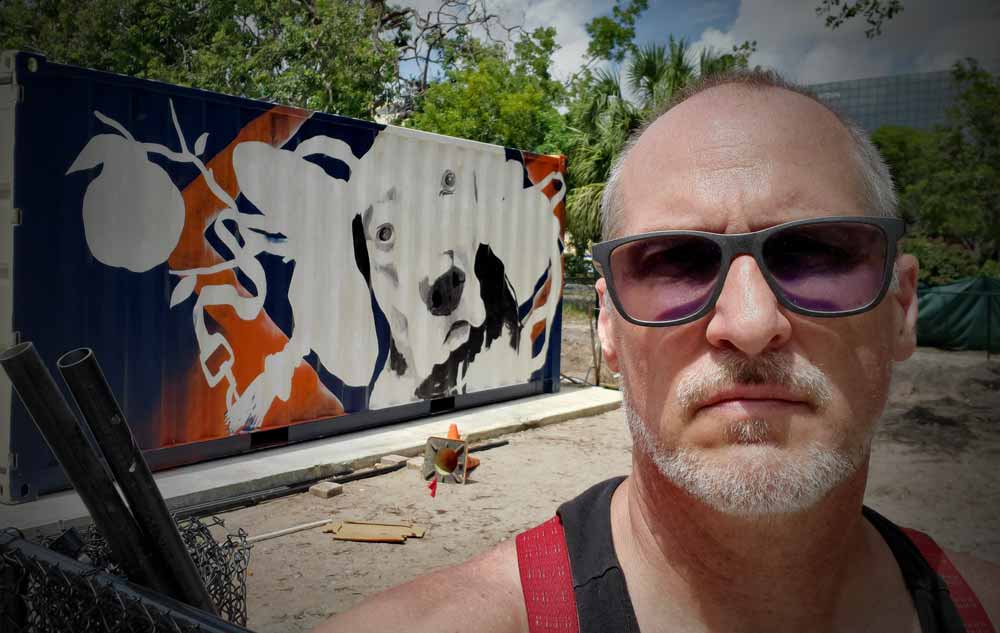 I've been working on two murals for Boca Grove Golf and Tennis Club for some time now. They are adding a new dog park and have a shipping container right in the center of it. They wanted some appropriate illustrations on the container for the location. I went a little further than usual and submitted two finished paintings as proposals. The paintings were at roughly one twelfth scale (8"x20"). I used as many true to life materials and methods as possible like the actual spray paint and house paints I planned on using on site. I'm glad I did. The surprises I had were much more easily worked out at the small scale.
After the client approved both proofs and the shipping container arrived, I got to work. I wont go through all of the steps I took but this was the first project I used a paint sprayer on. There was a short learning curve but I really liked it. Most work was done the old fashioned way with a brush. All work was done in acrylic paint and coated with a protective resin coating for both UV and vandalism protection.
The thing I'll remember most about this project was how physically challenging the project was. I thought I might be exaggerating the heat in my mind so I bought a weather thermometer. Every day the temperature exceeded 120 degrees Fahrenheit in the sun where I was working. All that being said it was well worth it.
See the working sketch here.
MURALS:
STREET ART:
PAINTINGS:
PORTFOLIOS:
By Software Used:
By Application or Use:
By Method: