FLIBS 2023 Show Program
Design by John Potter - Escape Key Graphics
Direction by Emma Wright - Informa Markets
For more (and more up to date) information about the 2023 Fort Lauderdale International Boat Show visit their official site at FLIBS.com.
I am the guy who designs and illustrates the maps used for the show and the page layout of the program.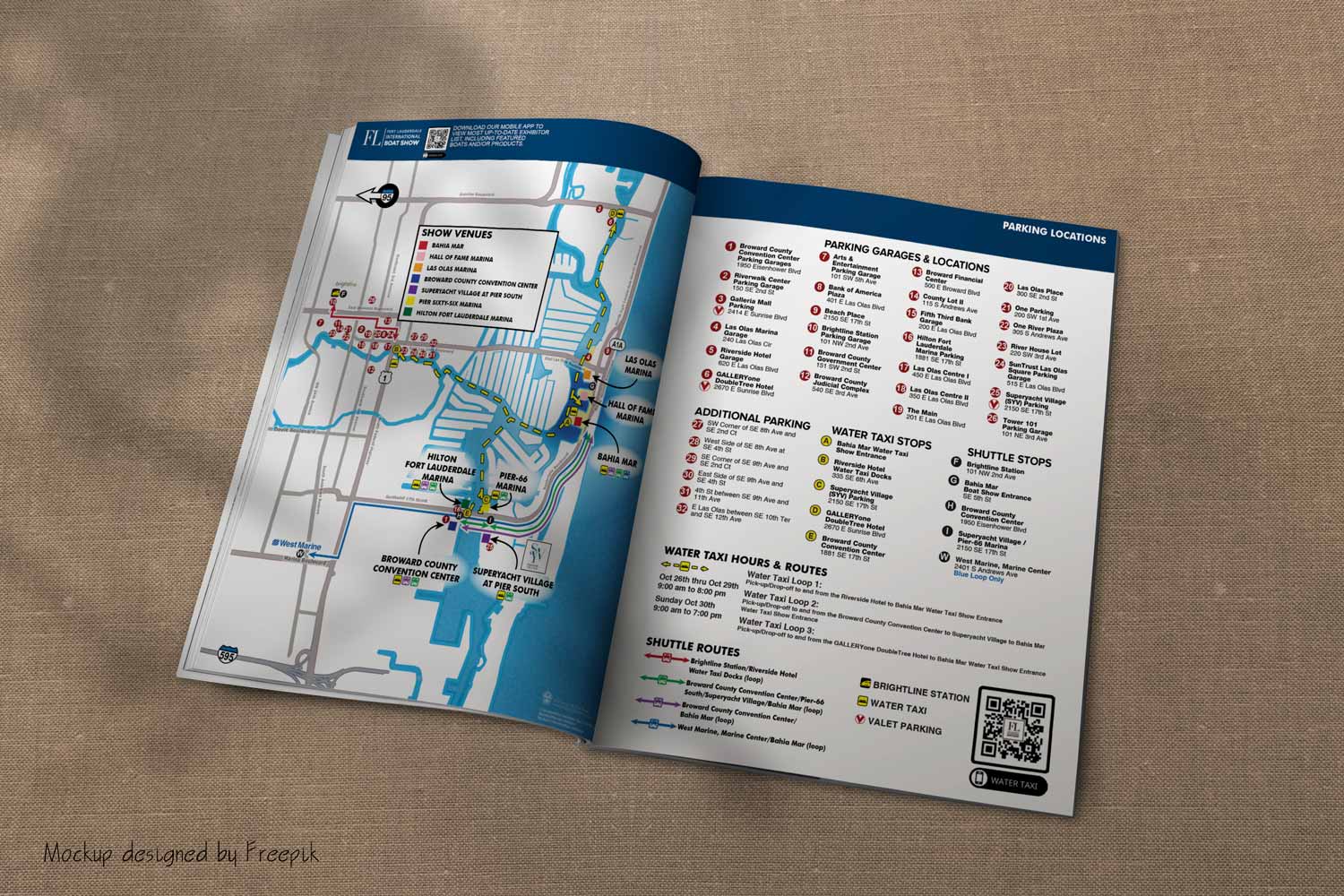 I did the page layout for the show program this year so keep an eye out for that. It's twenty pages chock full of information to help maximize your time including my many map designs.
Page layout and tables were designed in Adobe InDesign. The maps are a combination of Sketchup Pro, Adobe Illustrator and Adobe Photoshop.
* I did not design the cover or back cover and there are a few pages in there that were supplied by Informa Markets staff.
The whole thing is pretty collaborative. Thanks to the staff at Informa Markets.
If you would like to see more of my maps please see my portfolio.
---
Fort Lauderdale International Boat Show Maps 2023:
Bahia Mar, Swimming Hall of Fame & Las Olas Marina
|
Transit and Parking
|
Marinas (17th St Cswy)
|
Broward County Convention Center Map
|
Program Layout
MAPS FOR THE FORT LAUDERDALE INTERNATIONAL BOAT SHOW:
Fort Lauderdale International Boat Show Map
Convention Center Map
Illustrated Map of Marinas
Ft Lauderdale Boat Show Transit Map
Transit & Parking Map
FLIBS ISO / AXO
Bahia Mar, Swimming Hall of Fame and Las Olas Marina Maps for FLIBS :
2023 | 2022 | 2020 | 2019 | 2018 | 2017 | 2016 | 2015 | 2014 | 2013 | 2012 | 2011 | 2010

Convention Center Zoomable Maps
2023 | 2022 | 2016 | 2015 Ext | 2014 Ext | 2014 | 2013 Ext | 2013 | 2012 | 2011 | 2010


Fort Lauderdale International Boat Show Transit Maps
2023 | 2022 | 2020 | 2019 | 2018 | 2015 Bus | 2015 Water Taxi | 2014 | 2013 | 2012 | 2011